It is a common sight on Alfrieda Street in St Albans.
It is just before 2pm on a Wednesday and a tall, nervous young man in a hi-vis jacket stands on the footpath next to a fruiterer's produce display.
At the man's feet are cut price goods, transported here in a couple of foil-lined supermarket shopping bags.
The display provides partial cover from the CCTV cameras overlooking the strip.
On offer are trays of steaks straight off the shelf from a supermarket, and long strips of Energizer Max Plus batteries. The items, on sale for around a third of their retail price, are quickly snapped up for cash. 
This time, the seller is lucky.
Around half an hour earlier, a foot patrol led by Sergeant Shane Wallace of Keilor Downs Police happened upon three people offering wares also direct from supermarket shelves: rump steak, prawns and Sensodyne toothpaste. The trio was promptly arrested to appear in court on summons for the handling and sale of stolen goods.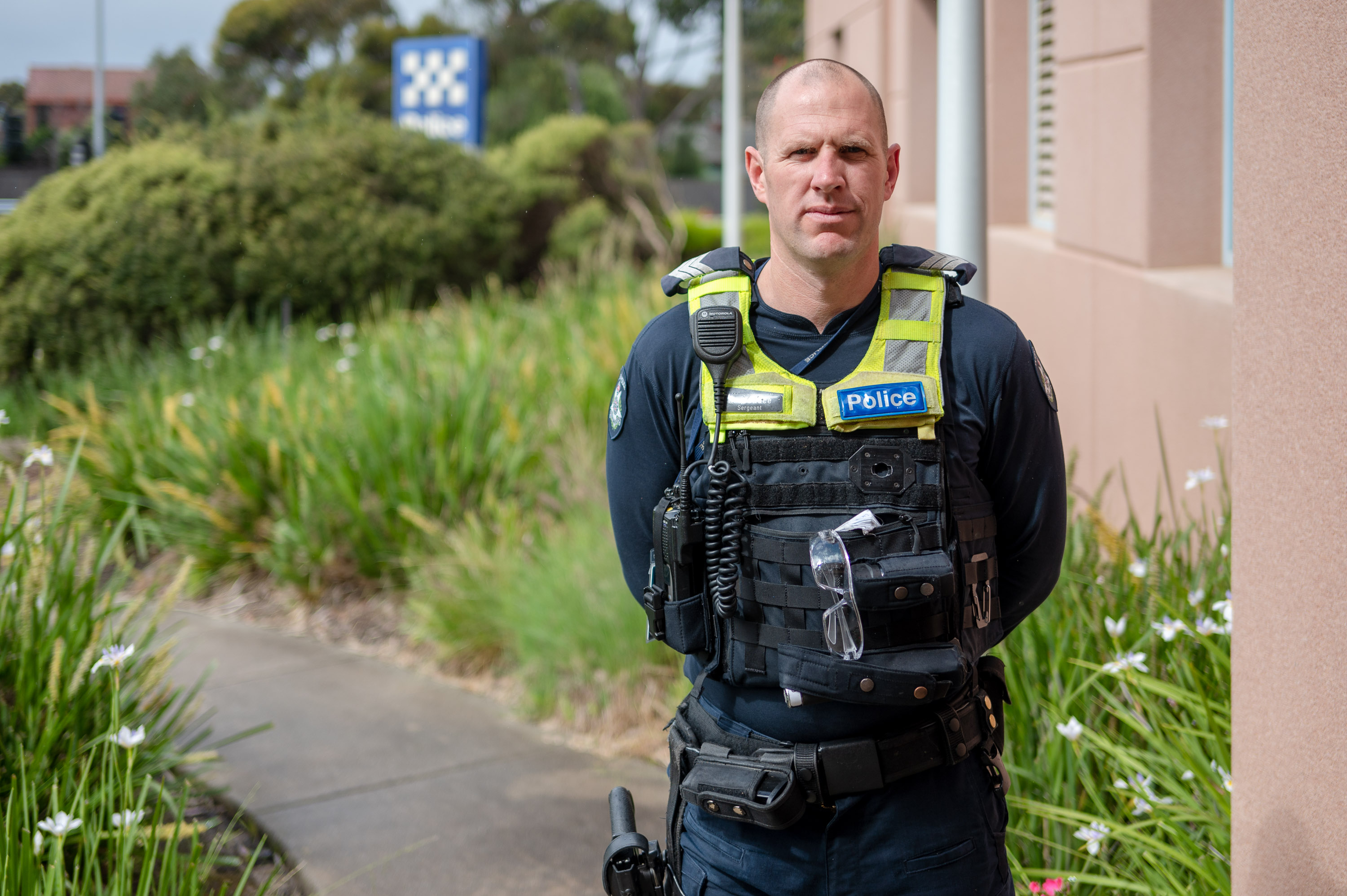 The patrol is part of the Brimbank Safer Communities Taskforce.
It has 10 members, three of them sergeants. While Alfrieda Street is considered a hotspot, the patrols also take in other areas in Brimbank considered at "high risk" of crime including Watergardens Shopping Centre in Taylors Lakes and Sunshine Marketplace. 
The objective, according to Wallace, is community engagement: "It's more about an ongoing police presence [in high traffic areas], some chit chat, getting to know your community. We're not necessarily there just to arrest offenders. It's also to make people feel safe."
A taskforce to tackle the problem is in the works. 
Wallace said the reasons behind the illegal trade were "vast", but that the offenders he had encountered were all "struggling".
"The most common thing is they say they got it from a friend or, 'I don't know what you're talking about - it's all mine. I paid for it'. The most common trait is that they need money. They could be doing it hard, the money they get from the government is not enough and then there's a few that do use it to fuel drug use."
He said about half of the perpetrators are local and half from outside the area.
"Sometimes it's fresh faces that we've never seen before … selling stolen goods out on the street. Then you might come across someone that you've seen two days earlier. He's been in front of the court, he's back there and we arrest him again."
While sellers are regularly arrested, buyers are not. Wallace estimated that two people had been arrested in the previous five to six months.
Just as sellers are driven by financial hardship, so too are some of the customers. 
A local who buys from illegal street vendors - and who spoke on the condition of anonymity - said sellers and buyers sometimes have "lookouts" placed at either end of the street to warn of police foot patrols and passing patrol vehicles. 
They said they bought from illegal street vendors because, as a long-term unemployed person, they couldn't afford to buy meat. 
"It's good stuff that they get: steaks, ribs, pork belly - they just swarm on it. I got two packs of steaks for $25 instead of $35 each the other week. You need meat for the vitamins and minerals."
The speed at which stolen items were sold indicated that there was no shortage in demand. Most purchasers of the goods appeared to be out grocery shopping and were happy to pounce on a bargain, stolen or not.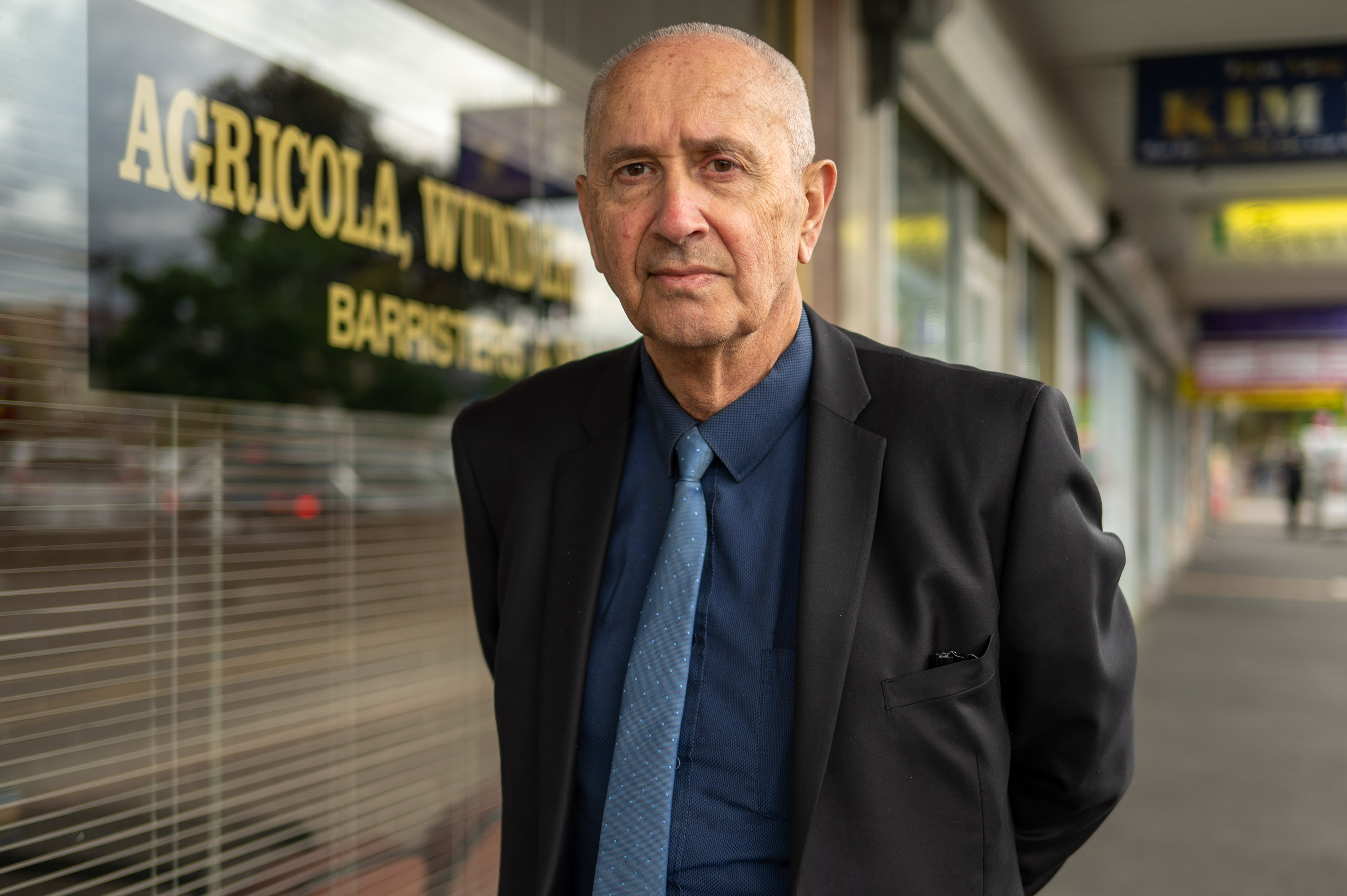 According to Sam Agricola, president of a St Albans trade association, legitimate businesses of St Albans have had enough: "These people are desperate to have it stopped. 
"[The thieves] just come in brazenly, take this meat and the next thing you know, they're selling it on the street. It's [profits taken] straight out their pockets and these people work seven days a week, morning til night."
Agricola is a lawyer whose firm has been in St Albans since 1986.
He has long championed the area - and Alfrieda Street in particular - and doesn't want to dwell on the negatives, preferring to talk up Alfrieda Street's Vietnamese community, and its vibrant new lunar year celebrations in January, which he said bring up to 80,000 visitors, and even drew a TV crew from South Korea in 2020.
"All in all, St Albans is changing," he said. "We've battled hard to bring this place up."
Agricola said CCTV cameras installed by Brimbank City Council have had a positive impact, and he remains optimistic about police action stamping out the illegal sale of goods.
Wallace told *PS Brimbank: "At any point in time if we do get a call about illegal street sellers, we can view [CCTV footage].
"The sole traders have had enough. A lot of them have become very pro police. Eventually the word will get out - don't come here. If you're going to come here and sell your illegal or stolen stuff on the streets, it's not going to be tolerated."